MAD GOES GREEN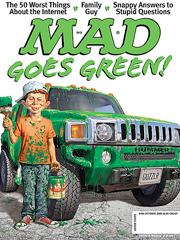 Going green is not something to brag about. It's something important to do. A moral obligation and a huge responsibility! That's why we're pleased as punch to announce MAD IS GOING GREEN!  Don't worry, we haven't taken any full page ads, but you will be reading about it on billboards, bus and subways posters. And if you live in one of the major ..:namespace prefix = st1 ns = "urn:schemas-microsoft-com:office:smarttags" />US cities, look for the "MAD's Going Green" flyers we've printed. We'll be using fuel efficient aircraft to drop millions of them from the sky.
This is a global effort on MAD's part, and all our offices world-wide are involved. And that includes everybody in our five tiny offices on the fourth floor of 1700 Broadway. We have already started car pooling for the staff. Since no one on the staff owns a car and all were using public transportation, we had to buy a car. We found a giant Hummer that can fit us all. Don't worry, it's a green Hummer. With gold trim. With the windows open and heat cranked up full, on chilly spring mornings we arrive at the office ready to talk about saving the environment.
That's how MAD goes green, a small chapter, an insight into the environmental plan of MAD from the magazienes July issue. You can still find it on MAD's homepage or on Ebay. It´s fun!
Birt:
Oct. 19, 2008
Tilvitnun:
Guðrún Arndís Tryggvadóttir "MAD gerist grænt", Náttúran.is: Oct. 19, 2008 URL: http://nature.is/d/2008/10/19/mad-gerist-graent/ [Skoðað:Jan. 27, 2021]
Efni má nota eða vitna í samkvæmt almennum venjum sé heimilda getið með slóð eða fullri tilvitnun hér að ofan.