Handtöskur úr endurnýttum umbúðum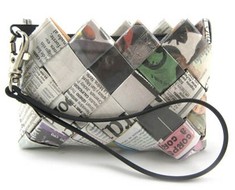 Kolors.is er ný netverslun sem selur handunnar töskur úr endurnýttu efni s.s. umbúðum af ýmsum vörum t.d. sælgætisbréfum, gosflöskumiðum, strikamerkjum, dagblöðum og tímaritum sem annars hefðu endað í landfyllingu. Kolors er með einkaleyfi fyrir sölu tasknanna hér á landi en þær eru framleiddar af bandaríska fyrirtækinu Ecoist.
Samstarfsaðilar Ecoist eru meðal annars: The Coca-Cola Company, Disney, Mars, Frito Lay, Luna Bar, og AVEDA. Töskurnar eru framleiddar á grundvelli Fair Trade af handverksfólki í Perú og Mexíkó. Sem hluti af umhverfisstarfi fyrirtækisins er að eitt tré er gróðursett fyrir hverja selda tösku.
Hver taska er handunnin og þess vegna eru engar tvær töskur alveg eins. Töskurnar eru sterkbyggðar, traustar og hrinda frá sér vatni. Til eru margar stærðir og tegundir og hægt að finna tösku sem hentar vel við hvaða klæðnað og tilefni sem er. Í myndinni Sex and the City 2 má sjá Samönthu (Kim Cattrall) skarta silfur tösku frá Ecoist. Auk þess hafa fjölmargar stjörnur í Hollywood skartað töskum frá Ecoist s.s. Cameron Diaz, Christina Ricci, Mary Louise Parker, Paris Hilton o.fl.
Birt:
Aug. 29, 2010
Tilvitnun:
Guðrún Arndís Tryggvadóttir "Handtöskur úr endurnýttum umbúðum", Náttúran.is: Aug. 29, 2010 URL: http://nature.is/d/2010/08/29/handtoskur-ur-endurnyttum-umbudum/ [Skoðað:June 4, 2023]
Efni má nota eða vitna í samkvæmt almennum venjum sé heimilda getið með slóð eða fullri tilvitnun hér að ofan.
breytt: Aug. 31, 2010