Santa Claus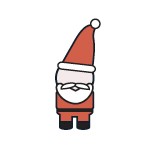 Santa is the personification of everything kind, just like God. He is an old man with a beard. He keeps us warm and makes our wishes come true. The red colour symbolizes warmth and the beard symbolizes wisdom. Santa's cone hat symbolizes his connection with the Kingdom.
Graphic: Santa Claus, Guðrún Tryggvadóttir ©Nature.is.
Birt:
Dec. 15, 2014
Tilvitnun:
Guðrún Arndís Tryggvadóttir "Jólasveinn - tákn jólanna", Náttúran.is: Dec. 15, 2014 URL: http://nature.is/d/2007/04/12/jlasveinninn/ [Skoðað:Dec. 10, 2023]
Efni má nota eða vitna í samkvæmt almennum venjum sé heimilda getið með slóð eða fullri tilvitnun hér að ofan.
skrifað: April 12, 2007
breytt: Dec. 6, 2014