The Nordic House wants to help Reykjavík get greener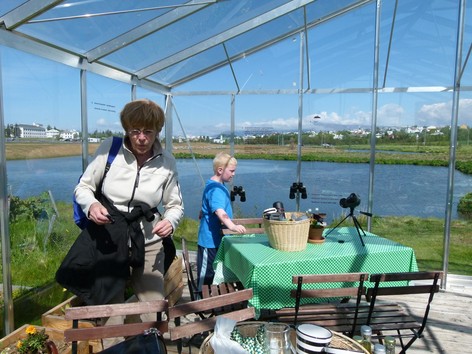 In a capital who wants to call itself a "green city", in connection to a University who wants to be on the world top 100-lists in the future and under the wings of an international cultural institution - architectural world renowned -, we are restoring and creating a natural bird habitat in one of the most urban environment you can think of. Bordered by a highway and an airport this is a challenge, and the birds are the judges. Already now we see that the arctic terns have returned back after many years of decline. This year between ten - fifteen couples are nesting in the area.

We want to do Reykjavik a green city - therefore we suggests new city planning, new buslines, new walking- and cycling paths, we arrange nature schools - free for the children of the town.
We want the University of Iceland to be one of the best in the world - therefore we suggest that the area will be direct connected to, and be a natural part of downtown Reykjavik, we want the environment on the campus to be sustainable, innovative, beautiful and inviting. We want the environment to provoke and inspire. We work together with experts, scientists and students both from the Institution of Natural Sciences, who is the nabor both to the Nordic House and the bird habitat, and from other institutions in Iceland and abroad.

The Nordic House as a cultural institution looks at its mission as responsible for the communication in the project. We want to engage the people of Reykjavik, we want to disseminate knowledge, we want to entertain and we want our visitors to enjoy, have fun and be happy. We want to emphasize on natural and healthy lifestyle. We want our visitors to understand how things are depending on each other, how ecological structures are built etc..We want to use the restoration of the wetland to change society. We mean that this is politics. We want to change the world!! ;-)

To get people engaged we have for example installed a web-cam in the middle of the bird habitat, so you can sit at home and zoom in on a nest, or follow your favorite bird in real-time.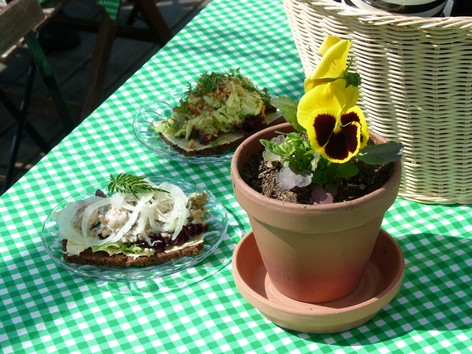 We have an ecological vegetable- and spice garden, for use of our chefs. We rent out picnic-baskets filled with healthy food, drinks and binoculars. We do bird watching tours, we do music by the waterline, we will install art connected to the bird habitat. We enforce international artists to work with the wild urban nature here in Vatnsmyrin. We make wonderful food from "kvönn" and "kervil".......
It is all about how man and nature are interacting and how quality of life is depending on a healthy and interesting natural environment. It is about our future!
Photo, above: In the greenhouse by the Nordic House today, below: Bread and flower, Guðrún A. Tryggvadóttir.
Birt:
June 11, 2012
Tilvitnun:
Max Dager "Norræna húsið vill gera Reykjavík grænni", Náttúran.is: June 11, 2012 URL: http://nature.is/d/2012/06/11/norraena-husid-vill-gera-reykjavik-graenni/ [Skoðað:April 1, 2023]
Efni má nota eða vitna í samkvæmt almennum venjum sé heimilda getið með slóð eða fullri tilvitnun hér að ofan.