The story of STUFF (neyslusaga)
Í bloggi sínu á moggnum vísar Salvör Gissurardóttir á mjög svo ágæta framsetningu á neysluhyggjunni og afleyðingum hennar. Það er Annie Leonard sem er sérfæðingur í umhverfismálum og sjálfbærri þróun sem hefur soðið þetta umfjöllunarefni niður í einfalda og skýra framsetningu sem hún hefur ætlað bandarískum almenningi að skilja. Það er óþarfi að hafa mörg orð um efnið hér þar sem Annie gerir viðfangsefninu mjög góð skil.
Myndina má sjá á  á YouTube
Sækja má myndina alla fyrir þá sem vilja hafa hana hjá sér, um 50 MB.
Smá forsmekkur: 
Það er margt sett fram á skemmtilega einfaldan hátt í myndinni og fjallað um hvernig neysla Bandaríkjamanna (og vesturveldnanna líka þó þess sé ekki getið) hefur margfaldast á liðnum árum. Vitnað er í "hönnuð" neysluhyggjunnar, því hún er ekki tilkomin bara sísvona, Victor Lebow sem segir: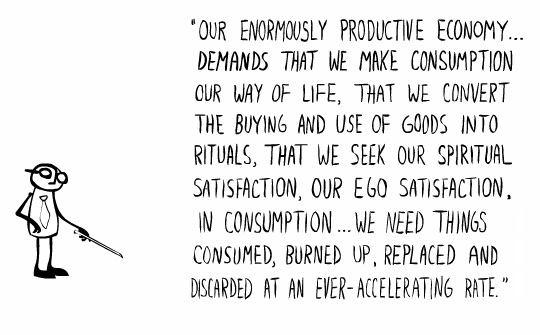 Í lauslegri þýðingu:
Hið ofboðslega skilvirka hagkerfi okkar... krefst þess að við gerum neyslu að lífsstíl, að við gerum kaup á vöru og þjónustu að helgiathöfn, að við leitum andlegrar fullnægju, okkar eigin fullnægju i neyslu... Við þörfnumst þess að hlutir séu keyptir, þeim eytt, þeim skipt út og hent með sívaxandi hraða.
Birt:
Dec. 17, 2007
Tilvitnun:
Einar Bergmundur "The story of STUFF (neyslusaga)", Náttúran.is: Dec. 17, 2007 URL: http://nature.is/d/2007/12/17/story-stuff-neyslusaga/ [Skoðað:Jan. 26, 2021]
Efni má nota eða vitna í samkvæmt almennum venjum sé heimilda getið með slóð eða fullri tilvitnun hér að ofan.
breytt: March 1, 2009