Vogafjós Cow Shed company
Tegund bús: Blandað bú – kýr, kindur og landnámshænur. Ferðaþjónusta – gisting, ferðamannafjós.
Til sölu/þjónusta: Svæðisbundinn matur til sölu í sælkerahorni á veitingastað, s.s. hverabrauð, reyktur silungur, hangikjöt, kindakæfa, mozarellaostur, salatostur, silungskæfa, ýmiss konar handverk o.fl.
Tökum á móti: Hópum og einstaklingum.
Opnunartími árs: Gistihús er opið allt árið, nema frá 23. desember til 31. janúar. Vogafjós er opið frá 1. maí til 30. september og á aðventu frá 20. nóvember til 23. desember. Aðrir tímar eftir samkomulagi.
Aðstaða: Gisting í 20 herbergjum með baði og morgunverði, auk veitingaaðstöðu.
Heimagerður matur á matseðli.
Annað: Margar náttúruperlur eru í nágrenni Vogafjóss, t.d. Hverfjall, Grjótagjá, Höfði, Dimmuborgir. Einnig Jarðböðin við Mývatn og Fuglasafn Sigurgeirs í Neslöndum. Tjaldsvæði er í næsta nágrenni. Á svæðinu er boðið upp á skoðunarferðir, t.d. í Herðubreiðalindir og Öskju, Dettifoss, Lofthelli o.fl. Á haustin er hægt að kaupa leyfi til rjúpna- og gæsaveiða.
---
Certifications. Labels and Awards:
Straight from the farm
Straight from the farm is a project that deals with enabling farmers to sell their own produce straight from the farm. The aim of the project was to develop a mark and supply farmers with the neccesary information to take the first steps to direct-sale of their products. Also to inform the general public and the farmers through the projects website. The founders of the project were; Hólar University College, Living Agriculture, Farmers Travel Services, The Agricultural University of Iceland,  The Farmers Association of Iceland and Innovation Centre Iceland.
The organisation ´Straight from the farm - Association of local producers' (Beint frá býli - félag heimavinnsluaðila) was foundet early in the year 2008.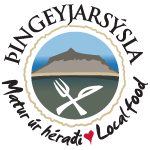 Northeast Iceland Culinary Experience - Local food
For Northeast Iceland, the tourism industry and local food producers have an opportunity to take advantage of the cultural heritage of the region to define a shared vision for product development and marketing linked to local food and food production. After initiative and preparation by Atthing, a group of local companies have formed a cluster around local food, the "Northeast Iceland Culinary Experience (NICE)".